So this is Valentine's Day. Some people really love this "holiday" and some people just say its only February 14th and look forward to half priced candy the next day. Movies, memes, video games and even our beloved comic books have dabbled in remembering Valentines Day in their own unique way. So whether you're looking to get in the spirit or just looking for something to read near the end of the day, here's ten memorable Valentine's Day themed comics (in no particular order) to check out.
1. Harley Quinn's Valentine's Day Special #1 (2015)
W: Jimmy Palmiotti, Amanda Conner/  A: John Timms, Ben Caldwell, Aaron Campbell, Thony Silas
Harley Quinn is feeling a little rambunctious and lonely on Valentine's Day until she learns of a charity event benefitting an animal shelter where bachelor Bruce Wayne is to be auctioned to the highest bidder. Loving that Bruce is helping out the animals, Harley manages to get the money necessary to compete with the rich and lonely single ladies that evening. But when it looks like she's scored a date, an unexpected kidnapping puts both Harley, Bruce Wayne and friends in for an interesting night of daydreams, alternate identities, eco-friendly messages and of course, a few smooches thrown in there. Ivy, eat your heart out.
2. The Punisher: Bloody Valentine #1 (2006)
Writer: Jimmy Palmiotti, Justin Gray/ A: Paul Gulacy
Frank Castle is the last person you'd want to see on Valentines Day so you can only imagine how he would choose to celebrate such an occasion. The people in Frank's life rarely have happy endings so should a friend or adversary return to cross paths with the Punisher, you know it can't be for a good reason. The last time he saw the assassin Suspiria, he dropped her off a skyscraper onto the car of the person who hired her. This time she not only wants to kiss and make up but she needs his help in locating a kidnapped Senator's son. They travel to Italy where all hell breaks loose and spoiler: Suspiria wasn't telling the complete truth. Happy Valentine's Day Frank, you give love a bad name.
3. Ms.Marvel #12 (2014)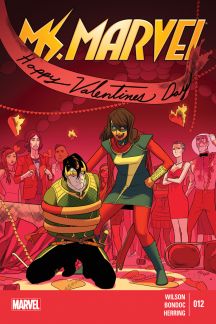 W: G. Willow Wilson/ A: Elmo Bondoc
Even in New Jersey, it can still be Valentine's Day and the only person not going to the Valentines Day Dance at Coles Academic High School is Kamala Khan. At the same time, the young trickster god Loki gets reassigned to the area by the powers that be. While scrounging for leftovers from the Inventor's attack, he can't help play Cupid for Bruno Carelli regarding his affections to Kamala. While Kamala was looking for a quiet night in, her attendance at the dance becomes mandatory when Loki adds a truth elixir into the punch. Sometimes love just needs a good ol' fashioned high school brawl to make it interesting.
4. Marvel Valentines Day Special #1 (1997)
W: Tom Peyer, John Ostrander, Frank Strom/ A: Mark Buckingham, Mary Mitchell, Dan DeCarlo, Dan Lawlis, Kyle Hotz
Sometimes its just easier to tell a bunch of stories connected to a theme instead of one single story. In this anthology one-shot dedicated to Valentines Day , a plethora of talented writers and artists told stories about a variety of Marvel characters dealing with situations connected to love. While Spider-Man is trying to play matchmaker to a nerdy student, Daredevil works to protect a young woman from her abusive boyfriend. While Golden Age heroine Venus helps two aliens find love and the Absorbing Man buys Titania a special doll for the holiday, Jean Grey receives a gift that has her remember back to when her and Scott Summers were raising their son Nathan aka Cable in the future. Like I said, everybody celebrates V-Day differently and in the Marvel Universe, that's the truth. Excelsior!
5. Young Romance: New 52 Valentines Day Special #1 (2013)
W: Kyle Higgins, Peter Milligan, Cecil Castellucci, Ann Nocenti, Andy Diggle/ A: Sanford Green, Phil Jimenez, Becky Cloonan, Emanuela Lupacchino, Gene Ha
If Marvel did it, you can bet it would only be a matter of time before DC Comics did a similar idea. Gathering a pool of talented writers and artists during the New 52 period, these creators explored the theme of love with some of DC's notable characters and couples. Alone on a rainy V-Day rooftop, Catwoman reminisces about the first time she met Batman while Mera discovers love letters from a doomed romance at sea that has unfinished business with Aquaman and his family. While Batgirl protects an old acquaintance from a life of crime and punishment with a kiss, Apollo comes to some grave conclusions regarding his relationship with Midnighter whom he has been searching for in Seoul. While Nightwing strikes out with girlfriends and assasins alike, Clark Kent and Diana Prince try to enjoy a simple date night in Tuscany which takes a turn for the worst when the house band turns out to be Siren's who bewitch Superman into fighting with his girlfriend Wonder Woman. If this is how they handle romance, I can only imagine how the anthology dedicated to Netflix and chill would go.
6. Teen Titans Go #4: My Crummy Valentine (2004)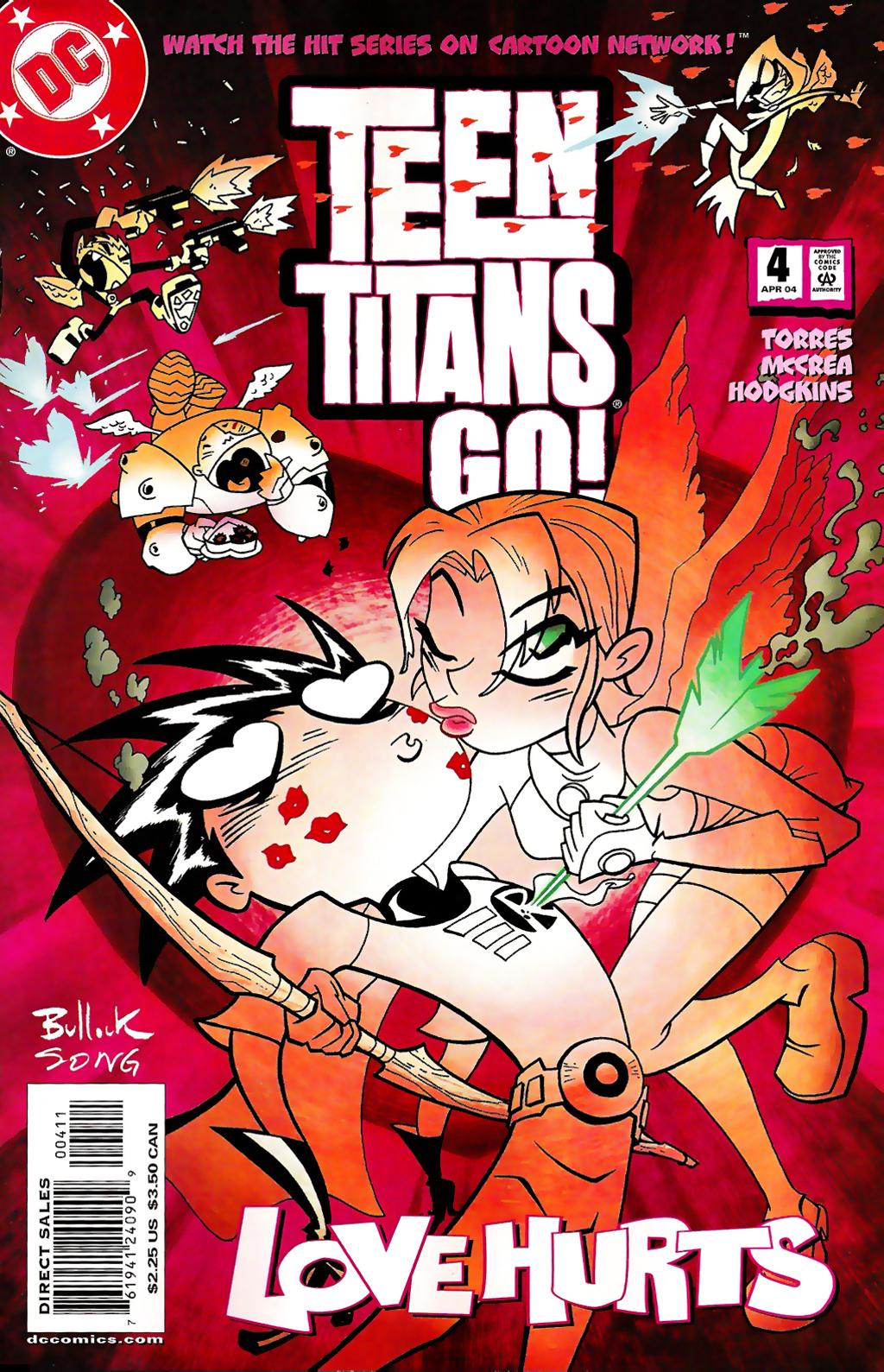 W: J. Torres / A: John McCrea
I know that many people have issues with Teen Titan's go and say that it is a watered down, inferior imitation of the Teen Titans cartoon that preceded it. But I must say this issue drawn by one of my favorite artists, John McCrea who worked on the Hitman series for DC, definitely had me interested in what the story could be. Upon getting kidnapped by the issues villain The Puppet King, Starfire discovers Valentines Day and her inquiries about the holiday eventually lead to the encouragement that Starfire and Robin should go on a date, you know so she gets the full V-Day experience. Of course the other Titans can't stop from interfering with the date when it gets sidetracked by the appearance of Puppet King who tries to turn the present carnival against them in an attempt to take over their minds so he can rule Jump City. Sometimes love can be just really , really freaking simple and cute.
7. Batman: The Long Halloween Issue #5 (1997)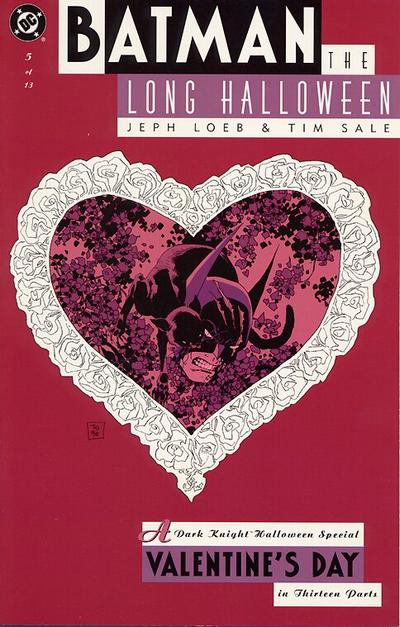 W: Jeph Loeb/ A: Tim Sale
In Jeph Loeb and Tim Sale's landmark series The Long Halloween, Batman and his allies are plagued with a serial killer prone for killing criminals on holidays. As Batman, Jim Gordon, and Harvey Dent work to take down mob boss Carmine Falcone, they watch their lives shift and change as they attempt to stop this killer dubbed "Holiday". On Valentines Day while Jim and Harvey realize their focus on this investigation caused them to forget getting their significant others Valentine's Day gifts, Bruce Wayne enjoys a quiet night at the opera with his date Selina Kyle. Their date is unexpectedly cut short after an uncut rose from a mysterious seller proves to be more than Bruce or even Batman could have anticipated.
8. Harlequin Valentine (2001)
W: Neil Gaiman/ A: John Bolton
Usually the words " By Neil Gaiman" means this story is gonna surely be something else and even on Valentine's Day, this is true. Gaiman explores themes of commedia dell'arte and Harlequinade pantomime first as a short story and later a graphic novel with brilliant artwork by John Bolton. On February 14th, a Harlequin nails his heart to the door of our main character Missy and she must discover who's it belongs to and what she is to do with it. While she does, the Harlequin secretly follows her and explores the idea of what she will do, the latest successor in a long line of people in similar situations. The material plus the colorful juxtaposition of our world and the Harlequin's world make this a story that will resonate with you for Valentine's Day's to come.
9. Calvin and Hobbes:
W/A: Bill Watterson
Calvin and Hobbes is one of the few comics in the world that literally could talk about any and everything and find the simple humor in it all and Valentines Day was no exception. When presented with the opportunity to do something nice for Susie Derkins for V-Day, Calvin goes about it in his hilarious, unpredictable way and the results are just as hilarious. Even though it was a story of only three comic strips, Calvin's Valentine's Day could make even the most intense critic of the "holiday" smile and shake their head.
10. Garfield:
W/A: Jim Davis
Just like Calvin and Hobbes, everybody's favorite overweight sarcastic orange cat could make us laugh about anything and yet still touch our hearts. Whether he was helping his naïve and loveless owner Jon Arbuckle land a successful date or contemplating how much Valentines day candy or lasagna he could eat, I still can't read the comics and not hear Lorenzo Music's voice narrating Garfield's thoughts. Somehow Jim Davis gave us a pet that speaks for all of us whether we'd want to hear it or not.
So whether you're enjoying a wonderful day with your beloved or counting your dollars for how much candy you could buy tomorrow, we at Aggressive Comix hope you had a kind and loving day and that tomorrow will be more or less the same!