Sound the Kill Bill sirens because the age old rumor has come true!
According to Deadline, an Disney Channel TV re-imagining of Hocus Pocus is currently in its early stages. But as of now, no original actors or many members of the crew will be involved in production.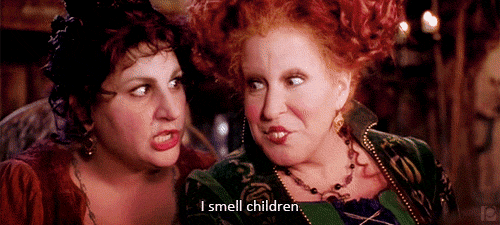 Scarlett Lacey (The Royals) will write the film and David Kirschner will executive produce. Kirschner worked as producer on the 1993 cult classic. Kenny Ortega (High School Musical, Descendants) will not be returning to direct.
But it's a bummer Bette Midler, Sarah Jessica Parker, and Kathy Najimy won't be reprising their roles as the Sanderson sisters. As stated by Vanity Fair,
"Still, we have to wonder why the film is being recast, considering the number of times the original trio has confirmed that they would be interested in reprising their roles. "I would love that," Parker said in 2016 about filming a Hocus Pocus sequel. "I think we've all been fairly vocal about being very keen, but that hasn't created any ground swell of movement."
What do you guys think of this announcement? Think it's a good decision? Stay tuned for more news and casting for this TV re-imagining!