After years of waiting and hypothesizing, there has been serious discussion about classic Spider-Man villain Mysterio in being one of the main villains in the Spider-Man: Homecoming sequel. Already taking place after the Avengers: Infinity War sequel (which proves that Peter Parker isn't just dust in the wind anymore), we see Tom Holland's friendly neighborhood Spider-Man going international. With a bigger playground than the four boroughs and Michael Keaton confirmed to return as Adrian Toomes, the announcement of Mysterio is an excellent bonus to an already highly anticipated movie. With actor Jake Gyllenhaal in discussion to play the famous master of illusion, I just have to say it's about damn time that Mysterio aka Quentin Beck got his chance to debut on the big screen. While we'll reserve any real opinions until the first trailer drops or on set photos leak onto the internet, let's highlight five Mysterio-centric storylines from the characters history that may be perfect for his MCU debut.
1. His Introduction: Mysterio was created by writer Stan Lee and artist Steve Ditko and debuted in Amazing Spider-Man #13. Originally Quentin Beck was a special effects maestro and stunt man who didn't have the chops to transition to being a major movie star. Inspired by a comment from a co-worker, he took his knack for illusions and special effects in a darker direction. He framed Spider-Man for a robbery at a museum and then showed up as Mysterio who challenged to a fight hoping his defeat of the webslinger would depict him as a hero. Although his use of chemicals and illusions not only dulled Peter's Spider-Sense and even dissolved his webbing, Spider-Man defeated Beck and exposed his plan. Now in jail as a criminal, he blamed Spider-Man for ruining his career and life and vowed revenge. Although a fairly easy plot, Mysterio would be introduced or involved in similar storylines in both television and video games alike.
2. Amazing Spider-Man #24: When dealing with Mysterio, nothing is always as it appears and Quentin Beck isn't above using his skills in special effects and make up to his advantage. In this story by Lee and Ditko, Beck pretended to be a world renowned psychiatrist named Dr. Ludwig Reinhart. He used a mixture of advanced technology and hypnosis to effect Peter's mind and make him believe he was going mad. This attempt to convince Peter to unmask was hilariously failed by the untimely appearance of J. Jonah Jameson which threw a serious monkey wrench in Mysterious plans and gave Spidey the upper edge to defeat Mysterio once again. Not only did this story prove that Mysterio is no one-trick pony, he is also fairly adept with technology and creative in its purposes. Considering his holo-cubes, a reference fans of the Spider-Man Animated Series would remember, were seen amongst Phineas Mason's tech in Homecoming would suggest Mysterio might be packing some serious firepower in all the wrong hands. Also the fact that ol' JJ stopped Mysterio from doing what he had been trying to do for years is still pretty funny.
3. Guardian Devil: At one point Mysterio had hit a new low in his reputation and personal life. When he was diagnosed with a brain tumor and lung cancer caused by years of exposure from the chemicals he used as Mysterio, he was given a year to live and was immediately driven towards revenge on Spider-Man. After learning the current Spider-Man was a clone, his attention was turned toward Daredevil who he saw as a kindred spirit. In a story by filmmaker Kevin Smith and artist Joe Quesada, Mysterio composed a devious multilayered plan to not only destroy Matt Murdock's mind but also anyone in his inner circle. Using all manner of special drugs and information provided by the Kingpin, he practically drove Karen Page into Bullseye's homicidal arms, had Foggy Nelson framed for murder and almost drove Matt Murdock insane from unparalleled violence, anger and visions of hellfire. But the Devil of Hell's Kitchen proved stronger than Mysterio could have hoped and even denied the defeated and pathetic villain the proper death he wanted just like they do in the movies. With a surprise ending that referenced another classic Spider-Man story, Guardian Devil proved that Mysterio could not be just a formidable villain to Spider-Man but to other Marvel heroes as well with the proper motivation. With rumors that Charlie Cox's Daredevil could make an appearance in the movie, this could be a great storyline to adapt or maybe we could see an ol' fashioned Marvel Team  Up?
4. The Gauntlet: If there's one thing Marvel characters love to do, it's coming back from the dead and get right back to business. During this year long storyline which had classic Spider-Man villains upgraded with new stories, Mysterio reminded us that not only was he good at messing with people's minds but that Alistair Smythe, the guy who created the Spider-Slayer androids, wasn't the only one good with robots. This story written by Dan Slott and illustrated by Marcos Martin had a modernized Mysterio employed by the crime syndicate known as the Maggia to build androids that mimicked deceased Maggia members. They wanted to use these resurrected gangsters as catalyst for a gang war against the super powered gangster Mr. Negative. Mysterio's handiwork temporarily convinced Spider-Man that he had accidentally killed some gang members during a fight but the situation got very personal when the gangster called the Big Man revealed himself as a tragic figure from Peter's past. Peter couldn't believe that the gangster could have been the same Captain George Stacey who died in his arms years ago. When the ruse was revealed, Spider-Man vowed to make Mysterio pay and ruined his plot to embezzle the Maggia and their fortune. This story proved that Mysterio wasn't afraid to align himself with powerful friends and had the ability to make a battle unexpectedly personal by turning your tragedies or fears against you.
5. The Ultimate Spider-Man Mysterio: Now it's fairly common knowledge that a lot of what we consider the Marvel Cinematic Universe was based on the Ultimate Marvel Universe story lines so why can't they take inspiration from its villains as well? Taking place in an alternate Marvel Universe, this version of Mysterio debuted in Ultimate Spider-Man Annual #3 by creators Brian Michael Bendis and David LaFuente. Ditching the green fishnets and the old fishbowl, this version of Mysterio was dressed in all black with a green neck brace that somehow portrayed surrounded by blue smoke.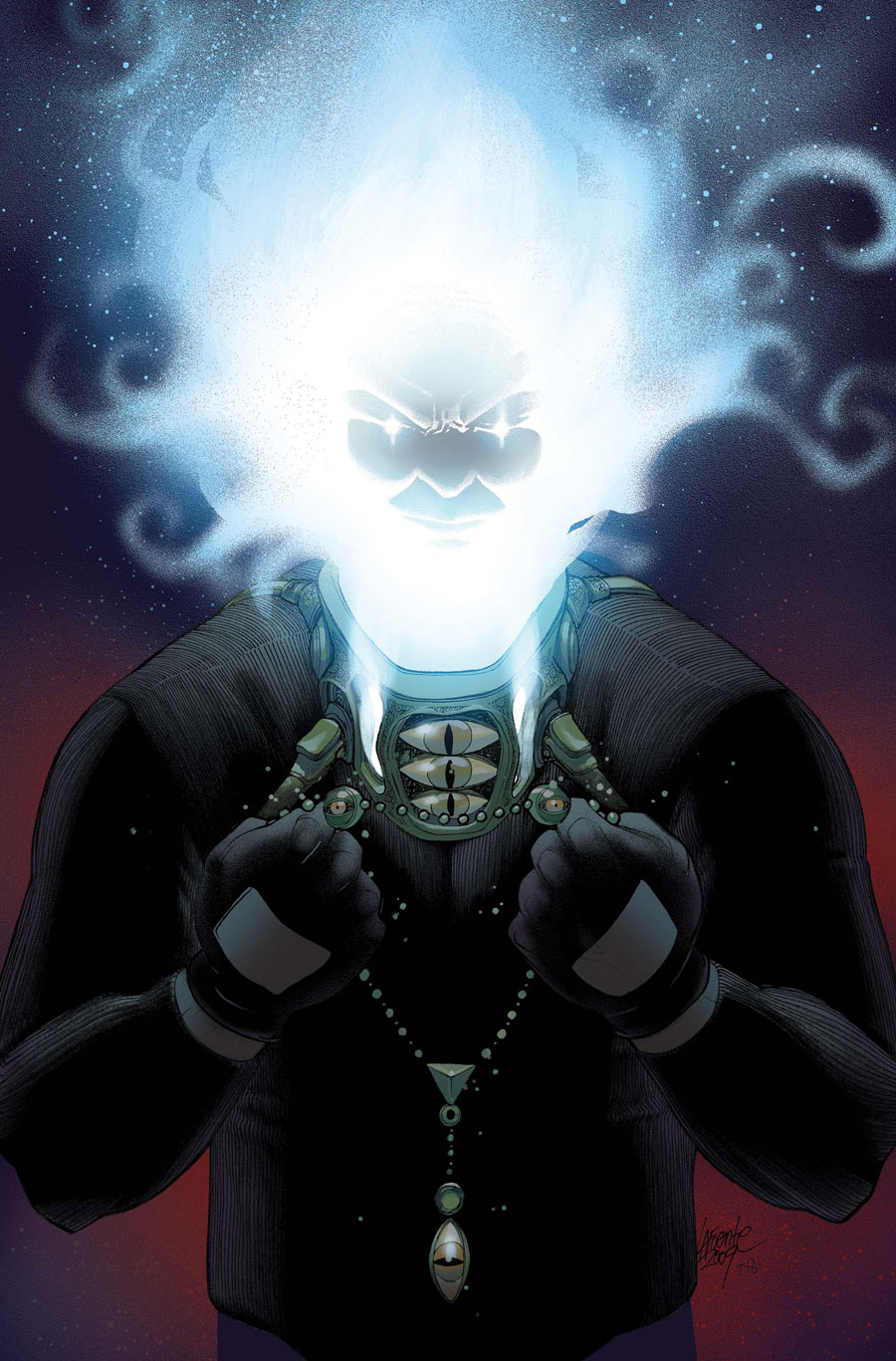 He was first discovered  using a police technician to place surveillance tech within the NYPD police department. When his plan was discovered and foiled, this villain followed tradition and aimed to get even with Spider-Man.  This version of Mysterio proved to be even more bold and brutal than his other universe counterpart by murdering Wilson Fisk aka The Kingpin and admitting it on camera while claiming control over the city. But with Spider-Man the ever constant thorn in his side, it was eventually revealed in the 2012 mini-series Spider-Men that this version of Mysterio was actually an avatar remote controlled by Quentin Beck from the main Marvel Universe. This unexpected twist not only proved the scope of Quentin Beck's mind but also that Mysterio in any incarnation is not to be underestimated.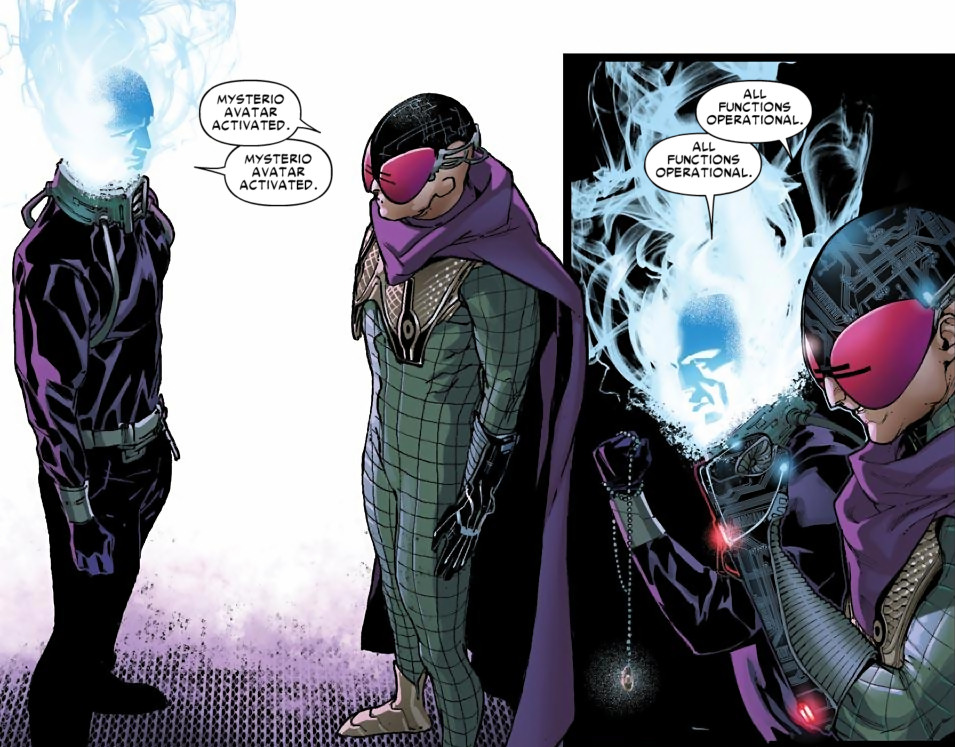 There are a some great versions of Mysterio to choose from and thus some great Mysterio-centric storylines to borrow plot elements, characters, and moments to mold into this new cinematic version. Although we may always be disappointed we never saw Bruce Campbell's cameos in Sam Raimi's Spider-Man trilogy be revealed as Mysterio, I'm glad that the advancement in technology and special effects today can give us the Mysterio we deserve.  To be quite honest, I'm simply glad these classic villians who by today's standard could be considered old-fashioned and hokey are being updated and reintroduced to a wider and interested audience. If anything, fingers crossed this leads to the Sinister Six.